Your Smile, Our Passion
Meet our dedicated team of denture specialists, offering expertise you can trust
We Specialize in Dentures
Our denturist provides specialized options to best suit your needs
Abbotsford's Denture Clinic
For over 50 years Abbotsford Denture Clinic has proudly served the Abbotsford, Fraser Valley and Lower Mainland community with trusted denture expertise.
Our clinic is wheel chair accessible, has free street parking, and has a team of experienced professionals that work hands-on to custom-make your dentures.
Our team understands the importance of a healthy and functional smile, which is why we use only the highest quality materials and advanced equipment to ensure that your dentures fit perfectly and look natural. Specializing in all removable denture services, we are experts in restoring your dental health and function. We offer solutions to meet your unique dental needs and give you a smile you deserve.
If you're looking for comprehensive denture services from a team of dedicated professionals, look no further than Abbotsford Denture Clinic. Contact us today to schedule a free consultation and take the first step towards a confident and beautiful smile.
Enhance your smile with our wide range of denture services:

March, Complete Dentures
Complete Dentures
Complete dentures are used when you are missing all of your natural teeth. They are removable and come in a variety of styles, such as standard dentures, precision dentures, digital dentures, immediate dentures, dentures over implants

March, Partial Dentures
Partial Dentures
Partial dentures are used when you are missing one or more of your natural teeth. Designed to look natural to your unique smile, partial dentures are available in several styles, including flexible, cast (metal), acrylic and tooth-coloured clasps

March, Immediate Dentures
Immediate Dentures
When extraction of your remaining teeth becomes unavoidable, an immediate denture is often the solution. You do not need to be without teeth, as your dentist places an immediate denture right away after extractions. Your denturist will have post-care visits to support your journey to a new smile

March, Reline, Rebase, Repairs
Reline, Rebase, Repairs
Whether you need your denture repaired, tightened or maintained, our denturists are here to help. Services are often same day and can be accessed for no charge

March, Soft Liners
Soft Liners
Soft liners are game-changers when it comes to how comfortable your dentures are. Soft liners can increase comfort for patients who have flat or thin gums. They act as soft support for chewing and daily wear

March, Dentures over Implants
Dentures over Implants
Ill-fitted dentures sometimes require anchor implants for better stability. Dentures over implants provide our patients with a better ability to chew, speak and follow their daily routine comfortably. They also reduce tissue irritations and decrease bone loss
We offer a variety of treatment options to ensure the care you desire is within reach
Experienced Dental Team
All members of our team (denturists, office manager and denture technicians) have over a decade of experience
Insurance Plans Accepted
We accept all eligible dental plans and offer direct billing services
Easy to Visit Us
Our office is wheelchair accessible, steps away from public transit, and has free customer parking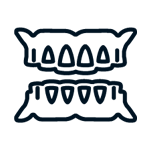 Same Day Services
Most repairs and relines can be completed within the same day
On-Site Lab
Allows for high quality and efficient denture services

Affordable Options
We offer a variety of treatment options to ensure the care you require is within reach
Mobile Services
Mobile services available, including home and institutional visits
No Referral Needed
Contact us directly for a free consultation
Collaborative Dental Care
We are happy to work with your dentist (or refer you to one) if needed
Your Smile is Our Passion